Sell or Pawn Your Omega Watch in San Jose, CA

NEED INSTANT CASH? SELL OR PAWN YOUR OMEGA WATCH TODAY
No matter if you are borrowing against or selling your Omega Watch, you want to ensure you get a fair and honest appraisal that gives you the cash you need.
R&J Jewelry and Loan offers a safe, transparent and fun way to sell or pawn your Omega Watch.
There are so many options for selling name brand watches. Even the thought of driving somewhere, working with a stranger, and then negotiating a price is daunting. 
No worries, our process is easy and friendly.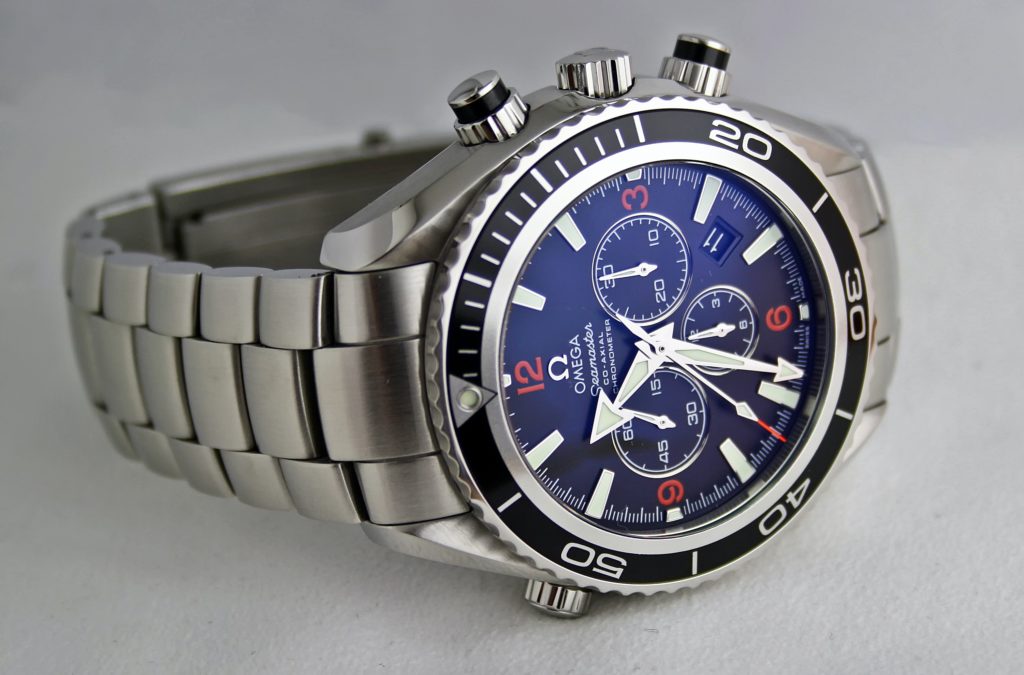 We provide immediate short-term solutions to your cash flow needs! Use your assets to secure direct funding! We accept a wide variety of pre-owned jewelry and we will always work with you to meet your financial needs.
WHY R & J JEWELRY & LOAN?
R&J Jewelry and Loan has been San Jose's trusted and reliable pawn shop for four decades.
We are not only a pawn shop, but also a jewelry store with a watch expert on site. With deep knowledge and respect for luxury watches, we have consistently been the go-to choice for the San Jose area. 
We love watches!
We specialize in a wide variety of luxury watches. and we are experts in modern and vintage Omega watches. 
No matter what condition your luxury watch is in, we will make you a fair offer to either buy or loan against your timepiece. 
Our primary goal is to make a lasting connection with our customers, so they return to us each time they need to buy, sell, or pawn a luxury item.
At R & J Jewelry & Loan pawn shop, we understand the importance of having long-term clients who view us as their first choice, and we believe you will quickly experience how we put our philosophy into practice.
Why not stop by today so we can show you our hospitality?
OUR OMEGA APPRAISAL PROCESS
Come meet our expert luxury watch appraiser, who has been working on site, at our store, for the past 20 years.
At R & J Jewelry & Loan, we consider all necessary factors and explain them in detail to you throughout the process, so you understand how you get the highest market price for your Omega Watch in the San Jose area.
The following are just some factors that play a role in your Omega Watch appraisal:
Original Packaging and Proof of Purchase: If you have the original box and papers, as well as proof of purchase, we can give you more money for your Omega. Even if you do not have all the papers, it's in your best interest to locate as many documents about the watch as possible.
Aesthetic Features: Some models may have diamonds or precious gems, which will understandably increase your Omega's value.
Condition: While we accept Omega Watches in various conditions, you will receive a higher estimate if it's in working condition. The value can also be affected if your Omega was refurbished or repaired. Dents and nicks will also play a role in the appraisal process.
Other Factors: Our expert appraiser will consider other factors. These include band material, the year your Omega was manufactured, and the clasp type. Finally, current supply and demand will play a role.
Our Focus is to help our local community meet their day to day cash needs through Collateral Pawn Loans. We offer a low-cost alternative for anyone who would like an immediate cash loan today. Your own valuables act as the collateral for your loan.
Jewelry underscores your personality. For this reason, we carry silver, gold, platinum and precious stones, so that we have the right piece for your individual taste. Special orders and custom designs are available for those looking for unique, one-of-a-kind pieces.
With a GIA trained gemologist with many years of experience, you can rest easy knowing you're receiving a fair, competitive offer when you're looking to sell jewelry. You can instantly exchange your diamonds and receive cash on the spot.
A timepiece is more than just an instrument for telling time, it says something about its owner without saying a word. We pay cash on almost any watch that is in good condition. Bring your watch in to sell or loan and let us make you a fair offer.
*R & J Jewelry & Loan is not affiliated with Omega Watches S.A., or any of its subsidiaries. R & J Jewelry & Loan is an independent watch dealer and is not sponsored by, associated with and/or affiliated with Omega Watches, S.A. R & J Jewelry & Loan only sells pre-owned Omega watches and provides its own warranties on the watches it sells. Omega Watches is under no obligation to warranty-service watches sold by R & J Jewelry & Loan. To buy a new Omega watch in San Jose, CA, please visit omegawatches.com for a list of authorized Omega Watch dealers near you.