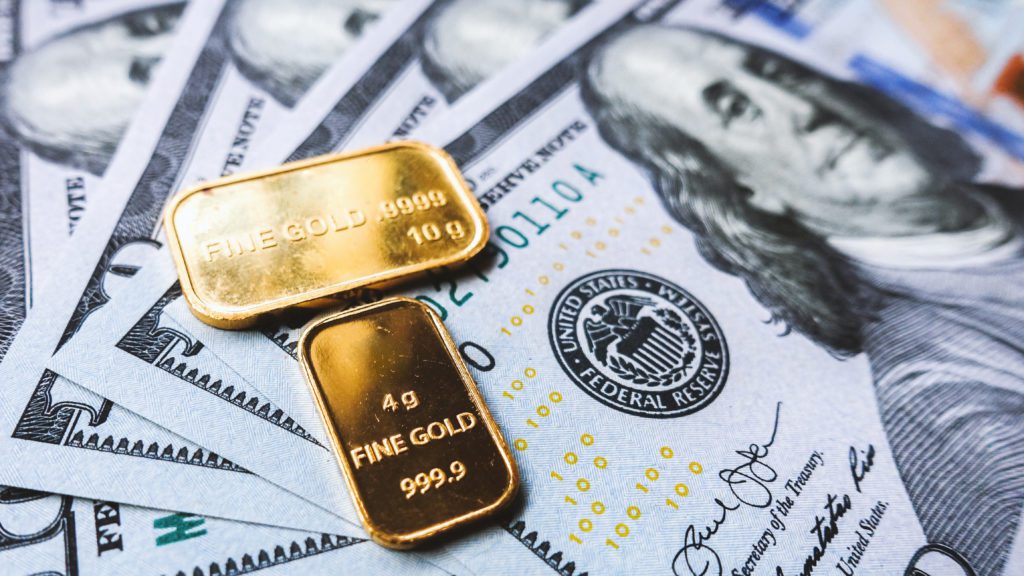 Do you need a short-term loan or want to find a trusted gold buyer that will pay you top dollar for gold or precious metals you want to sell? In San Jose, there are different options. Pawn shops, online dealers, and exchanges all buy and sell gold.
When shopping for a good price on gold or silver, don't forget to stop by one of the pawn shops in the San Jose, CA area.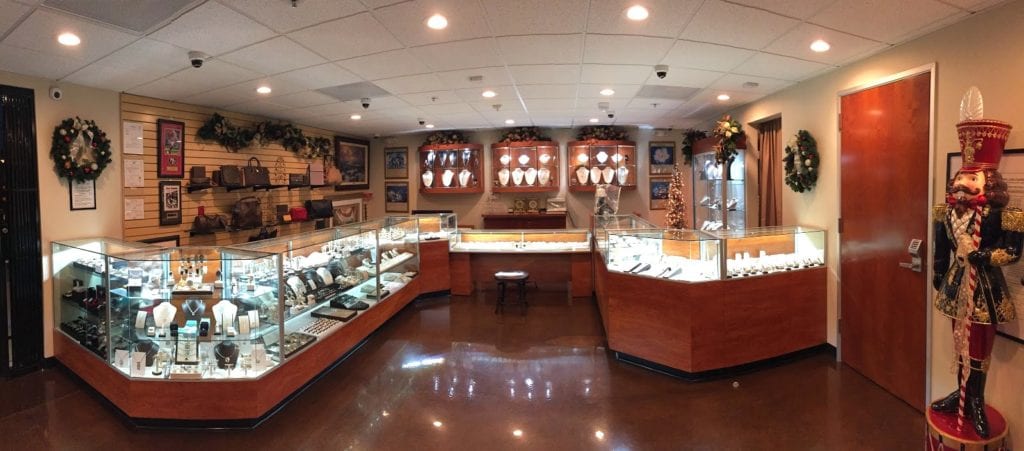 R&J Jewelry and Loan is located in San Jose, CA, and provides pawn services to the Los Gatos, Santa Clara, and surrounding areas. If you are in the market to sell your silver bullion, gold jewelry, platinum, gold, fine jewelry, or coins, the pawnbrokers at R&J Jewelry and Loan will work with you to give you an honest appraisal and get you the money you need.
Gold and silver prices are based on the spot price, which is the current market price of the precious metals if those metals were bought and delivered "on the spot."
In addition to the spot price, there are premiums to consider, and this amount may vary depending on location and what precious metal you are trying to liquidate.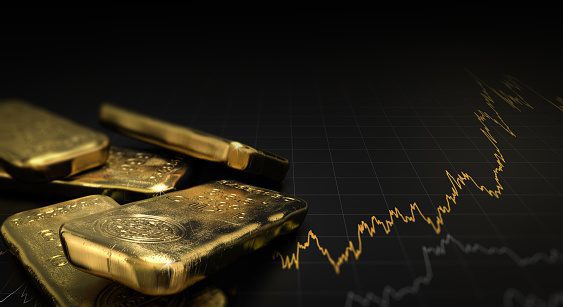 You can locate silver dealers and other gold buyers online, but some drawbacks. When you sell to a buyer online, you must know what purity your precious metal is and its weight.
You then have to mail it to the business and wait for them to appraise it and weigh it.
Once an amount and offer are provided, and you agree to the transaction, you will need to wait for payment.
Most exchanges are honest; however, be aware some might hustle a bit and say that the precious metal you sent in has other metals in it and not the purity you said, giving you less money in the long run.
Have you looked in your closet, home safe, jewelry box for gold bullion, old gold jewelry you don't wear, or gold and silver coins?
When sold to R&J Jewelry and Loan, these luxury items bring the highest price.
The owner ensures that all of his team are experts in getting you the best price for your precious metals.
They also offer collateral loan services and a large inventory of high-end designer items. If you are interested in buying gold, they can help.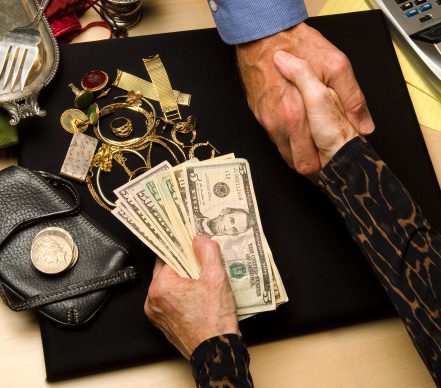 Obtaining a short-term pawn loan from R & J Jewelry & Loan pawn shop is simple, discreet, and absolutely secure.
"Our focus is to help our local community meet their day-to-day cash needs through Collateral Pawn Loans."
We offer a low-cost alternative for anyone who would like an immediate cash loan today. Your own valuables act as the collateral for your loan.
We are a licensed and bonded pawn shop, which means that when you do business with us, you get peace of mind in the process.
We provide immediate short-term solutions to your cash flow needs! Use your assets to secure direct funding! We accept a wide variety of pre-owned jewelry, and we will always work with you to meet your financial needs.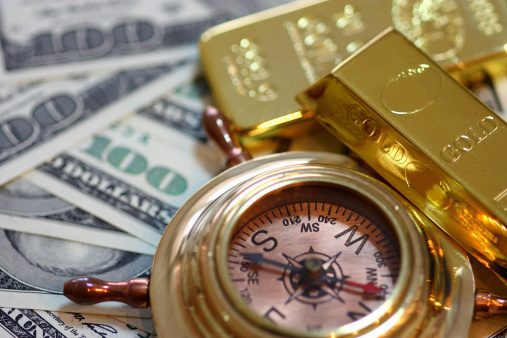 R & J Jewelry & Loan pays cash for various products. Gold, diamonds, jewelry – you name it, we can help. When you come to our pawn shop in San Jose, CA, you can be sure you're dealing with EXPERIENCED and dependable professionals. Trade your unwanted items at our pawn shop.
With a GIA-trained gemologist with many years of experience, you can rest easy knowing you're receiving a fair, competitive offer when you're looking to sell jewelry.
You can instantly exchange your diamonds and receive cash on the spot.
We will buy, sell, and trade items like Jewelry, Gold, and Luxury Accessories.

Jewelry underscores your personality. For this reason, we carry silver, gold, platinum, and precious stones to have the right piece for your individual taste. Special orders and custom designs are available for those looking for unique, one-of-a-kind pieces.
Our GIA-trained gemologist with many years of experience has appraised each diamond that comes into our store, providing you with the confidence that what you are buying is the "real deal." We have gold rings, diamond engagement rings, and beautiful watches available at an affordable price. Why buy new when you can purchase a one-of-a-kind piece at the best price in San Jose, CA 95125.
Looking for a Rolex or other designer watch? Our watches are more than an instrument for telling time; they say something about you, the owner. Fine watches such as Rolex, Cartier, Patek Philippe, Richard Mille, Hublot, Audemars Piguet, IWC Schaffhausen, Blancpain, Omega, and others are available for purchase. We also have vintage watches, especially sports models and chronographs, pocket watches, etc.
Luxury Handbags
The beauty of a luxury handbag is beyond measure. Designer handbags, purses, and accessories made by Louis Vuitton, Chanel, Prada, HERMÉS, Birkin, YSL, Yves Saint Laurent, Gucci, Fendi, Dior, Givenchy delight our customers when they want to find a handbag at a reasonable price. We offer the best prices if you want to come by and purchase one to add to your collection.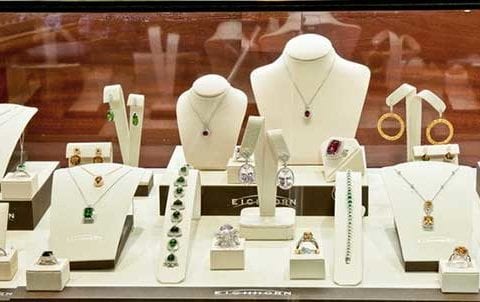 We have been a family-owned and operated pawn shop since 1978. We have built our reputation on personalized services and our extensive jewelry selection in various price ranges.
We strive to set ourselves apart from other pawn shops by offering real money for your personal items.
Fair and reasonable offers are how we do business.
At R & J Jewelry & Loan, we will buy your items or give you a cash loan to get you through the rough times.
Come in today and see what we have to offer. We would love to see you!